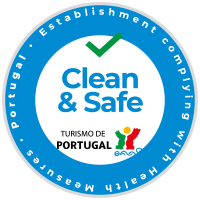 Selo Clean & Safe Pepe Aromas
We live in a unique situation and times of uncertainty, which is why our priority is the health and safety of our customers, employees and partners.
In this sense, we remain committed to high standards of hygiene and cleanliness which, although already part of our daily routines, have now been reinforced in accordance with the guidelines of the World Health Organization, Turismo de Portugal and local health authorities.
The Pepe Aromas Clean & Safe certification holds us responsible and committed to the safety, health and wellbeing of our staff and visitors!
Clean and alert staff
All members of our field, factory and tourism staff have been actively trained on Covid 19 and on the new rules of hygiene, social conduct, respiratory procedures, use and handling of disinfectants.
We provide personal protective equipment and all employees wear a mask and/or visor, disinfect their hands before putting on disposable gloves, use shoe covers to enter the factory or tourist and leisure areas and have sanitisers available in all common areas according to the implemented contingency plan.
We check the temperature of all our employees on a daily basis and monitor the general health status of the workers.
An area has been established to isolate people who may be detected as suspected cases or confirmed cases of COVID-19, and the necessary resources have been provided for that isolation area and the procedures to be taken in each case have been defined. There is always a staff member in charge of triggering the procedures in case of suspected infection (accompanying the person with symptoms to the isolation area, providing the necessary assistance and contacting the national health service).
Secure Spaces and Facilities
All circulation areas are regularly ventilated and have signage reminding the recommended safety distance and the recommended and mandatory hygiene procedures in order to stay in the space; the public service area has an acrylic protection panel; we often sanitise social areas, toilets and frequent contact surfaces such as door handles, flushing levers, sink taps, telephones, keyboards, handrails, switches, countertops.
Hand sanitising stations or dispensers are strategically placed in all areas of circulation for workers and customers.
Social Distancing
All areas comply with the limits of occupation determined by law. Social distancing will be practised in all common spaces and during train, walking or cycling tours.
Activities and leisure while being safe
We privilege outdoor activities and disinfect all equipment regularly. We use disposable and recyclable towels and materials whenever possible.
Leisure and tourism activities always operate by appointment, with very small groups, to ensure that the previously established limits of occupation are met and that all areas are cleaned, sanitised and disinfected in between each group.
We guarantee social distance and disinfect our support and transport equipment between each visit. In some areas, we have periodically disinfected carpets so that the soles of shoes can be sanitised before entering the space.
Train Station shop
Our train station shop has been reorganised to meet the new challenges. The number of customers in the shop has been limited and the entrance doors and surfaces are regularly disinfected. Early ordering services by email and home deliveries are available to limit trips to the shop. Gloves, hand sanitising gel and masks for adults and children are available free of charge. We privilege payments by Bank Transfer or MB WAY to limit the use of cash payments.
With these measures, we want to ensure that when you visit us, we are prepared to welcome you with the same quality, dedication and safety as always!